How important is the dining table? Throughout history people have gathering together to break bread. The formal dining room has become somewhat obsolete, but the dining table still plays an important and significant role in socialization.
Choosing a table involves some consideration. Should it be a fixed size or extendible? How will the table be used - for fine dining, everyday meals, and/or a family activity center?
These decisions help narrow down the materials and size for the dining table. At Studio2b, we have some amazing transformable tables that serve as a coffee table, then transform into a full and extendible dining table.
Formal Dining Tables
Formal tables would be used sparingly and many choose glass in either clear or satin (markless) with a back painted surface. The satin provides a beautiful surface that is easy to maintain while offering a soft velvet finish that is organic and gorgeous. Bonaldo, Cattelan Italia, Tonelli all offer glass options, many of which come with extensions.

Everyday Meal Dining Tables
Using your table for everyday meals opens up a whole plethora of options - stone, wood, porcelain ceramic provide various options for Contemporary or transitional design. We sell wood tables the most. Colorado loves the warmth of wood and a wooden table with a straight or natural raw edge embraces any Design style. Throw in a strong metal base and it becomes a statement in the room that, much like the perfect dinner guest, "mixes well with others."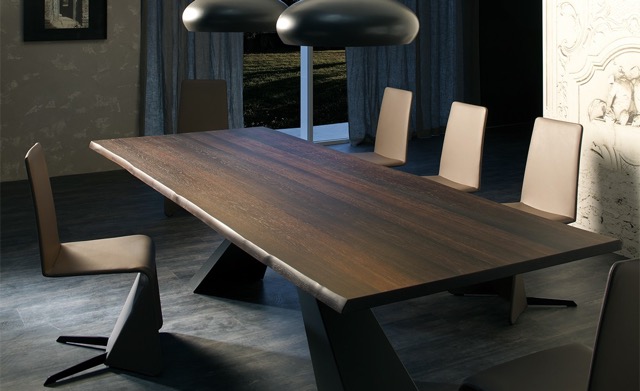 Dining Tables for Family Activity Centers
A family activity center table is the true workhorse of dining tables – it is here where memories are made, bonds are formed and true interaction happens. These tables are not just for dining. As we all know (or at least a lot of men), the dining room or dining space seems to be the perfect place for a pool table. But most women will not tolerate a pool table in place of the all-important dining table.
The Fusion Pool table stands apart in the dizzying array of dining tables options. Its mild mannered clean lines make it appear simple and unpretentious, yet when in fact, it is a superhero for families, couples and singles bringing everyone together; hosting up to 10 people.
Fusiontable's steel frame never has to be re-leveled due to temperature or humidity changes featuring a solid slate top. Fusion is a 7' regulation sized pool table, a true pool table, built by a billiards company, not a furniture company. All equipment is stored under the table tops; every superhero needs to be able to disguise their true identity. Fusion does it better and easier than any other dining/pool table, while keeping the fun, the adventure and the peace in a home.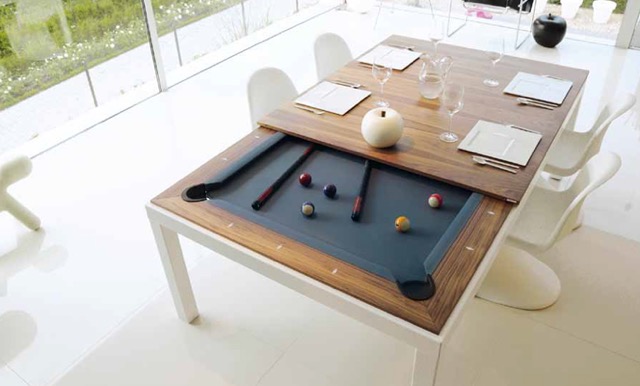 As Curt Bossuyt, CEO of Fusiontables observed: "Design only excels when it adds great moments to peoples' lives."
Samantha